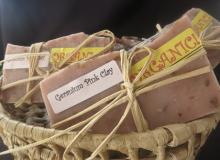 Geranium Soap is packed with regenarative benefits of geranium essential oil. In combination with the healing properties of unrefined oils used in a soap base, it provides moisturizing qualities to mature skin. Suitable for face, hands, body.
Ingrediants: Organic unrefined coconut, olive and palm oils, distilled water, bentonite clay, sodium hydroxide, rose pink clay, geranium essential oil, rose petals. No artificial colorants or fragrances added.
Approximately: 3.5oz.
*This statement has not been evaluated by the FDA. This product is not intended to diagnose, treat, cure, or prevent any disease