Milica (Millie) Milovanovic- certified Macrobiotic teacher and counselor whose life and work is dedicated to helping others help themselves. She has completed all levels of Macrobiotic training with Michio Kushi at the Kushi Institute for Macrobiotics, Berkshire, Massachusetts.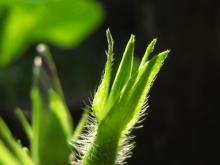 Spring, usually associated with color green, is the time of energetic renewal, growth and coming out of the winter dream. As the Earth is changing its position, so is the energy surrounding it. In spring, the axis of the Earth is increasing its tilt relative to the Sun, and the length of daylight rapidly increases for the relevant hemisphere. The hemisphere begins to warm significantly causing new plants to grow and give birth to new life, while melting the drowning energy of snow. A tree is a symbol of growth and development because it branches upward into the sky, while its roots submerge deep down into the ground. During this season, the nature is waking up and regenerating itself, while the similar changes are occuring within our bodies – we are more active, wake up earlier and feel the need to sleep less. During the spring we need to eliminate all the excesses from our life and begin the detox. Sauerkraut carries the energy that supports this season. Liver, gallbladder and nervous system are being nourished by the tree energy. The emotions associated with a tree energy are anger and rage.
Sour taste, used in moderation, is very beneficial for this energetic phase. It opens and relaxes our body, enabling the energy flow through the zones of stagnation. The early morning moves us from the horizontal, resting positon into a vertical, active state and fills us with more vitality and progress trhoughout the day.
The cooking styles are light and refreshing – sauteeing, blanching and pickling with vinegar and salt (or lemon and salt) which positively affects the "spring" organs. The condition of liver is reflected in the quality of our eyeseight. Therefore, health problems related to vision are directly related to the imbalance of the liver.
Tree energy is a symbol of growth and development and its balance reflects in our patience and joyfulness – we start to see how our life is beautiful and good. Balanced tree energy represents the center of our ambition. It is the moving force that gives birth to creativity within us. We are able to express ourselves freely, without having to worry about the ways we express or about external conditions.
Imbalances of  tree energy are manifested in different ways. When this energy is in excess, we feel overly creative, but also frustrated due to the inability to express ourselves on the way we want. As the frustrations and impatience grow, our anger and imbalances are also getting intensified. This energetic state makes us feel anxious and irritated. Our opinions are hard and we begin to see only the chaos in the world around us. Impatience and anger are not being reflected towards ourselves but towards the people that surround us. We start to believe that others are moving too slow or not doing good enough according to our standards. Our body language is defensive and angry, while neck muscles become very tense. Our jaw is stiff, eyes very sensitive to light with wrinkled eyebrows. The movement of our body is not fluent and gracious, but rather stark and mechanical. We tend to speak in a loud volume, like we are shouting.  On the other hand, when the tree energy is deficient, we appear inert and with a lack of initiative. We move very slowly through life. Feeling obstructed, we become the followers, incapable of expressing our own feelings and emotions.
According to the teachings of the traditional Chinese medicine, spring is the best period to do a liver cleanse. Winter food, which is usually heavier and harder to digest, was previously over-burdening the liver. Therefore, this is an ideal period for resting and healing our liver. In our diet, we should introduce the food that will strengthen and clean our "wood" organs along with the foods that support the water energy. Barley, oats, rice and wheat are some examples of foods that remove stagnant energies within the body. In addition, it is essential to consume good ammounts of leafy green vegetables, lentils and other beans, lemon, unrefined extra virgin olive oil, unrefined sesame oil and other good quality cooking oils.
Recipes For Spring Season:
Special Medicinal Drink (Tea for dissolving the excesssive blood fat):
11/2liter (50oz) of water
1 ½ cup dry roasted short brown rice
1/3 cup cut carrot leaves 
1/3 cup cut daikon leaves 
2 TBSP grated burdock root
2 TBSP grated carrots
2 TBSP dried daikon
1 dried Shitaki mushroom
Preparation:
Combine all the ingredients. Add water and bring to boil. Once the water reaches the boiling point, lower the heat to the lowest possible and cook for 40 minutes (or until you are left with 2 cups of the mixture). 
Drink around 4oz of the tea 4 times per day.
Sweet-sauerkraut:
1 medium sized red cabbage
2 green apples
1-2 onions
1 TBSP sesame oil
1 tsp umeboshi vinegar
1tsp rice vinegar
1 tsp salt (flat, not heaping)
Bay leaves
Preparation:
Heat the oil and add the previously cut onion (in the shape of half-circles) into the pan. Sautee the onion and then add thinly sliced apples. Add cabbage (cut as if you would for a salad), salt and bay leaves. At the start of sauteeing, add a small amount of water until vegetables release their own juices to prevent burning. Cook covered until it boils and then lower the heat. Cook for another hour. Afterwards, you can add rice and umeboshi vinegar and cook for another 5 minutes. Garnish with chopped scallions and parsley.
Lentil Soup :
1 cup lentils (red or green)
5 cups water
1 onion
1Tbs sesame oil
1/2 tsp salt
1/2 lemon
Preparation:
Sauté the onion in a pot with some sesame oil and add a pinch of salt. Add water and lentils along with 2 slices of lemon rind and simmer for 30 minutes. Remove lemon rinds and add 1/2 tsp sea salt. Cook for another 10-15minutes after adding the salt. Add 1 Tbsp of lemon juice towards the end. Garnish with some fresh parsley. If you would like, you can add some vegetables to the soup like carrots and green celery.
Pressed salad :
2-3 cups green cabbage or napa cabbage sliced thinly 
1cup daikon cut in matchsticks (kinpira style)
1tsp salt 
½ - 1lemon
Preparation:
Cut all vegetables in thin slices and mix them with salt and lemon by gently squeezing with your fingers. Place the mixture in the salad press for 30 minutes. After 30 minutes, slowly drain and serve.
Blanched salad :
1 cup carrot (matchstick cut) or broccoli
1 cup sliced celery greens or red cabbage                                                    
1 cup sliced radish or carrots                                                        
3 cups water
¼ tsp salt
Preparation:
Cut the vegetables into equally sized matchsticks. Add pinch of salt to the water and bring to boil. Cook the carrots for one minute in the boiling water (do not lower the heat) and take it out quickly. Do the same with celery and radish. Mix all the vegetables together each time you take one of them out of the pot. Pour the dressing on top.
Dressing:
1tsp shoyu
1tsp extra virgin olive oil
1tsp lemon juice
Combine everything and whisk gently. Pour the dressing over the vegetables and serve.
Barley with Rice :
1 ½ cup barley
1 ½ cup brown rice
2 cups water
Pinch of salt
Preparation:
Clean the grains carefully, wash them and soak overnight. Do not discard the water in the morning. Place in a pot and bring to boil. Add pinch of salt when water starts boiling and then lower the heat. Cook for 50 minutes - 1 hour in a regular pot (not pressure cooker).
Asian Coleslaw :
½ cup thinly sliced green cabbage
¼ cup purple cabbage
¼ cup napa cabbage
¼ cup carrot
3Tbsp scallion chopped
3Tbsp fresh cilantro chopped
Dressing:
2-3Tbsp peanut butter
1Tbsp rice vinegar
1Tbsp shoyu
1Tbsp rice syrup
1Tbsp ginger juice
Preparation:
Combine all the dressing ingredients in a suribachi. Whisk and mix everything well and pour over the vegetables before serving.