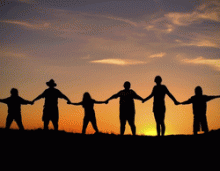 This morning I was sitting on the bench in front of the office that issues IDs and passports in the police department of Chukarica (municipality of Belgrade). We were trying to organize ourselves in a chaotic environment:  those of us that were sitting and the new ones that were coming in and forming a line in front of the door. We all wanted to be good civilians who were there just on time to submit papers for new personal documents before the old ones expire.  Interestingly, most of us had crossed arms in the area of solar plexus, like we were trying to protect ourselves from nervousness and insecurity that unorganized atmosphere was producing. While we were waiting, the girl that was standing  close to the door, only for some twenty minutes or so, sneaked in the office, on the protest and astonishment of all present who "came there before her". The door behind her closed, loud protest quieted down and became mute protest that even more contracted the solar plexus.
Those doors that separate us, regular citizens, from administration of "almighty government" bring more nervousness when they open, and more sighs when they close. As there is something behind those doors that we so desire but cannot have…and yet we have to do. Out of insecurity and feeling that someone will   grab our place, cheat on us or take advantage of our inattentiveness, more of us is now getting up and standing closer to the door, crowding already chaotic space. Distrust and powerlessness are felt in the air…
And just a week ago I was a witness of unbelievable "flood "of human goodness and self-organization. During the time of floods in Serbia and surrounding countries, emerged that unmatched and essential, basic human goodness. It won over distrust, contraction, separation and personal interests. What is the most impressive is that people organized themselves:  we did not wait for any government neither authority to tell us to be good neither explanation on  how to help each other. People themselves drove the boats where they were needed; they brought food, hygiene, and clothing; they were saving people and animals. For hours we volunteered in the shelters, cooking for people in need, sorting out the boxes that were arriving with aid. Many people were showing up on their own  in the shelters of Red Cross and would stay there day and night. We exceeded ourselves and the government organization.
And then, this morning I was again reminded on collective contracting in that power center, that solar plexus, as well as in the first chakra where the ground is not so certain, where we do not trust, were we are helpless.
Helpless in front of whom?  Some bigger apparatus of power and smaller number of people which define how to live?
Often, during the election, people ask me for whom I will vote. My answer is always: Nobody.
Why?
Because I think that the future of human race is in the completely new, and perhaps for now, inconceivable direction.  Giving power to the one individual or smaller group of people, that need to "save "and lead much bigger population of millions, simply cannot function no matter how enthusiastic or honest the group, or individual, is. It is unrealistic to expect responsibility, we ourselves are avoiding, from the individual we have handed out our own power.
Solution?
 Let's organize ourselves, just as we did so powerfully just a few days ago. Organization on the local level, growing food, governing locally, somewhere completely eliminates need for government and those that will misuse the power and position. This whole system of election and disowning the power, leads to helpless and distrustful state of existence, just like I experienced this morning in the police department of Chukarica. I have clear sense that this kind of system is outdated and condemned to fail.
Don't take me wrongly: I am not preaching anarchy here. It is about the power of individuals to live their life fully, for themselves , as well as for the community where we are all there for each other – ONLY because WE WANT so. That vision will come to existence one day – most probably, in this body, I will not live long enough to see it, but that vision (now confirmed by action of the people in recent floods) gives hope. That is a society that consists of conscious individuals who feel charge of personal creation as well as co-creation, society where the ground is safe as much as we allow it to be, where there is no helplessness, submission and superiority. That is the life we decide and want to live, not helpless expectation that somebody else will live it for us.
We are the only ones that can live our lives. That attitude requires responsibility towards own life, growing up, differentiation and individualization. I now became aware how this kind of work that I do, in individual and group settings (PsychoEnergetics, Brennan energy work, etc.) is already contributing to the creation of the new society of powerful individuals.
Power back to the people, where it belongs.
As Hopi elders say: we are the ones we were waiting for.
It is time to emerge from helplessness, distrust and vagueness and give ourselves the main role in our lives and life of our community.
Still overwhelmed and amazed by human goodness.
Always yours,
Katarina