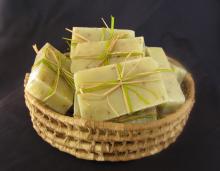 Lavander-Rosemary soap is recommended for environmentaly damaged skin. Luxurious blend of organic oils moisturizes the skin and calms down the inflamations. The extra virgen olive oil is infused with organic lavender buds  and rosemary.
Ingredients: organic extra virgen olive and coconut oils, organic, sustainably harvested and fair traid palm oil, infused organic lavender buds and rosemary, hydrogen peroxide, bentonite clay, lavender and rosemary essential oils, organic lavander buds.
Aproximately 3.5oz
*This statement has not been evaluated by the FDA. This product is not intended to diagnose, treat, cure, or prevent any disease.