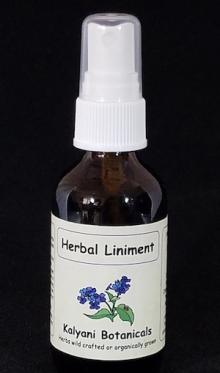 This herbal liniment is soothing to bruises, sprains and strains. Its cooling and anti-inflamatory properties alleviate pain and promote circulation.
Sprey directly onto skin and massage sore muscles for instant relief.
Ingredients: Arnica, Chamomile, Oregon grape, Echinacea, Comfrey, organic menthol crystals, isopropyl alcohol. 2 oz.
Method of cultivation: Certified organic herbs.
Note: Before applying herbal linient, use DolorSana salve or any oil you have. It will help penetrate the skin and carry those precious herbs deeper into the tissue.
*This statement has not been evaluated by the FDA. This product is not intended to diagnose, treat, cure, or prevent any disease