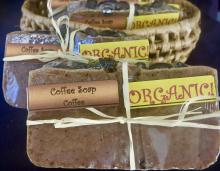 Coffee has many beneficial uses in bath and body products including toning skin, reducing redness, eliminating cellulite, and fading stretch marks and acne scars. It's also packed full of antioxidants which improves circulation to firm and brighten skin.
Ingredients: Organic unrefined oils of coconut, olive and palm, organic Puertorican grounded coffee,bentonite clay, sodium hydroxide,distilled water, coffee essential oil, coffee beans.
Approximate weight: 3.5oz.
*This statement has not been evaluated by the FDA. This product is not intended to diagnose, treat, cure, or prevent any disease