Date:
June 28, 2018

to

July 1, 2018
Join us in communion, in this extraordinary event, while exploring the Self and discovering your creative feminine power. Three-day retreat
Power and Wisdom of the Woman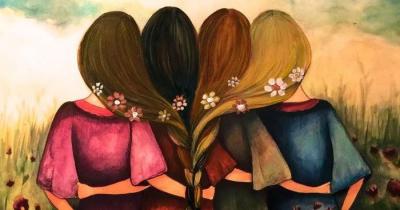 Since time immemorial, the feminine principle was the symbol of fertility, abundance and life. The role of a healer in ancient tribes, until today, was entrusted to skillful medicine woman, a mother, a grandmother. The woman's body gives shelter to the new life, it contains wisdom and skill inherited from innumerable generations of ancestors. Knowledge of medicinal plants, midwifery, energy healing, intuition, knowledge of the invisible worlds and unknown dimensions, all of these are characteristics of the feminine principle.
However, over centuries, due to many skills that others did not understand,  women were judged, exiled, burned at stake. Feminine principle was rejected and misunderstood. The wounds of our female ancestors still live in us, a modern woman.
Various archetypes like mother, healer and warrior are present, more or less, in each one of us. Our wombs are extremely sensitive part of female anatomy: often times it is easily wounded. It is a place of magnificent creations, but also the place of deepest wounds.
Our gathering of women of every age, from the youngest to the oldest, in all phases of women's creative process, is intended to deepen exploration of individual and universal feminine principle as well as healing that can be received only form another woman.
We invite you on this unique event that will be filled with rituals, medicinal plants, shamanic journeys, but the most important, it will be filled with what we discover about ourselves - wisdom, power, vulnerability, force of creation, joy.
Content is rich and diverse, new surprises will be added during next few months.
What will we be doing these three days?
morning yoga or tai chi classes
woman's circle
getting to know medicinal plants for female reproductive system
Goddess Cosmeo - preparation of natural remedies for face and body
vaginal steam bath
archetypes and gooddiess in each one of us
mindful presence in natural reserve of Krchedin Ada ( a river island where horses and other animals roam freely)
some of the participants will be able to work on their mother's line through family constellations
bonfire and drumming circle
expressing your feminine essence through dance, performance and art
untangling shameful and unexpressed feminine - yin- principle
trauma of a woman
During this intimate exploration of your feminine, and perhaps your most hidden aspects, we will be housed in Jandala retreat center, nearby Krchedin Ada, between Belgrade and Novi Sad, Serbia. During our stay, the retreat center is closing its doors for any other visitors, so the participants can feel safe and have their privacy, necessary for this deep work.
Date: June 28. - July 1, 2018.
Time: Thursday: 2-4pm registration
4:30 - 7pm opening
Sunday: 4pm closing.
Detailed program will be sent to the participants.
Location: Jandala Retreat Center
Investment: from €270-300, depending on the type of housing. The housing price can go down, depending on the number of participants.
This price is all inclusive: three nights and three meals each day (vegetarian + fish), body products we make, workshop, spa facilities.
€100 deposit is required. In case workshop is canceled by organizers the deposit will be fully refunded. In case participant cancels, 50% of the deposit is nonrefundable.
In case we have foreign visitors, the additional charge for the translation is €50 a day. With the increasing number of people needing translation, the price will progressivly be lowered. For more information about translation prices and needs, contact
Dragana Zarevac: zarevacdragana@gmail.com
Catalog of beutiful Jandala Retreat Center is at the bottom, below map.
Welcome!