Milica (Millie) Milovanovic- certified Macrobiotic teacher and counselor whose life and work is dedicated to helping others help themselves. She has completed all levels of Macrobiotic training with Michio Kushi at the Kushi Institute for Macrobiotics, Berkshire, Massachusetts.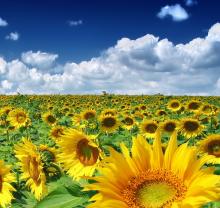 Summer is the season that respires with wealth and splendor, a time of growth and development. The days are longer. The sun rises early and it forces us as well to sleep less and get up earlier. It is useful to get up early so that we could imbibe the solar energy as the plants do. Summer is a season when we should be joyful, open to people around us and unselfish.
During summer, the fire energy prevails and it is the most dynamic energy period of all. Fire energy is a driving force of events, the seat of our will and creativity. Transformation of fire allows us to discover what we are and what we want to become. Fire is like Sun, warm and brilliant. Fire energy feeds the heart and small intestine. Oriental medicine believes that the heart is the seat of the soul and that our true nature is shown from the heart. The color of this energy phase is red and the taste is bitter. Bitter taste, which comes from nuts, seeds and greens like dandelion, sharpens our thinking and orientation. 
Strong balanced energy allows us to express freely and clearly, giving us a sharp mind and the ability to receive and apply new information easily. People with strong balanced energy are charismatic, able to express their emotions easily; they are very inspiring, particularly emphatic and compassionate. Similar to real fire, this transformation articulates its energy through activity, reflecting simultaneously its internal tranquility and strength. This energy allows us to maintain inner peace and to deal with the changes around us. 
Unbalanced energy manifests itself in different ways. When this energy is excessive, we are overstated – we exaggerate everything, both positive and negative. We speak and think hastily jumping from topic to topic, we over- dramatize. When this energy is at shortage, we feel weak, move and react slowly. Everything around us is depressed and flat, we lose the ability to be joyful and we aren't aware that we are in a depression. In conclusion, in order to keep this strong energy in balance, we need to keep receiving and releasing it.
Let us see which food helps us to maintain fire energy in balance. It is needed to consume a diet that supports energy of wood, which nourishes and constantly maintains the fire energy and also the food that supports the energy of water, which keeps the energy of fire under control. When we talk about the food that supports the energy of fire we should think in terms of expansion, drama and high vitality. During summer, one should consume whole grains such as corn, quinoa, amaranth, various types of beans, especially red lentils, different types of bitter-flavor green vegetables - dandelion, collard greens, kale, bok choy, different types of lettuce, spring onions, cucumbers, among fruit - apricot, strawberry, raspberry, among nuts - almond, sesame seeds, unrefined olive oil, sesame oil and other good oils. Food should be thermally processed as short as possible, among spices - pepper, hot pepper, fresh ginger should be used in small quantities and the intake of salt should be reduced.
Summer recepies:
Breakfast:
Amaranth
3 tbsp amaranth
1 cup leftover rice from yesterday
2 cups of water
pinch of salt
Boil amaranth 10 to 15 minutes.  Incorporate rice and pinch of salt.  Simmer 5 minutes.  Serve.
Miso Soup:
Small piece of wakame
1 cup water
1 stalk celery
1 tbsp tofu cut into small squares
1 tsp miso
Put in water wakame, sliced celery and tofu.   Boil for 5 minutes.  Turn off and stir in Miso.  Garnish with scallion or parsley. (do not boil miso)
Greens:
Half bunch mustard greens
Boil 2 to 3 minutes.  Add lemon or umeboshi vinegar.
Lunch:
Polenta and corn
4 cups water
1 cup corn grits
1 cup of frozen/fresh corn
½ tsp salt
Boil the water.  Add polenta and salt.  Stir quickly to dissolve lumps.  Cook 20 minutes (instant polenta cook 5 minutes).  At end of cooking add corn.  Cook 5 more minutes.  Garnish with scallion.
Pinto Beans:
1 cup pinto beans soaked over night
1 onion
2 cups of water
Drain beans and add fresh water and small piece of kombu.  Bring to a boil.  Dice an onion and add it to the beans.  Cover and simmer until soft.  When soft put half teaspoon salt and cook 10 to 20 minutes more.  Serve over the polenta.
Collard Greens with Pumpkin Seed Dressing:
1 bunch Collard Greens
½ cup roasted pumpkin seeds
2-3 tbsp water
½ umeboshi plum
Collard greens, washed, trimmed and sliced boil for 3 minutes.  When done rinse with cold water.
In suribachi put pumpkin seeds.  Grind the seeds until they become like a paste.  Add water and half umeboshi plum.  Grind together like a paste.  If the paste is too thick, add more water.  If not sour enough, add a quarter more of umeboshi  plum. Poor over the greens. 
Sauteed Carrot and Cabbage
2 carrots washed and cut into matchsticks (kinpira style)
1 cup cabbage thinly sliced
In skillet add water and carrots with a pinch of salt.  Simmer  for 5 minutes.  Add cabbage on the  top of carrots with a pinch of salt.  Simmer again until cabbage is soft,  about 5 minutes.  Season with soy sauce.  Garnish with parsley on the top.
Dinner:
Vegetable Soup
½ cup leek
½ cup daicon
½ cup broccoli
2 cups of water
pinch  of salt
Sautee leek and  deacon with a pinch of salt in water for about 5 minutes.  Add 2 cups of water and bring it to boil.  Add  broccoli.  Season to taste with salt.
Rice Salad
1 cup cooked rice
Separately cook:
¼ cup peas
¼ cup diced carrots
¼ cup cauliflower 
¼ cup kabocha squash diced
Cook each 1 minute in water with a pinch of salt.  1 minute squash, 1 minute carrots, 1 minute peas, 1 minute cauliflower.  
Mix together with rice.  
Dressing:
4 tbsp olive oil
1 tbsp umeboshi  vinegar
1tbs lemon
2 tbsp minced scallion
Mix all together.  Pour over rice mixture.  Season to taste.
Fried Tempeh
8 oz tempeh
½ cup apple juice
2-3 tbsp soy sauce
Marinate tempeh in apple juice and  soy sauce 15 to 30 minutes.
Fry in virgin olive oil till browned on both sides.
**Tempeh can be served on the side or mixed in with the salad.**
Sauteed  Brussel  Sprouts with Almonds
2 cup brussel sprouts peeled leaf by leaf
2 to 3 tbsp slivered toasted almonds
Water sauté and fast cook peeled brussel sprouts with a generous pinch of salt about  5 minutes.
Mix together slivered almonds with  sautéed brussel sprouts.
Dinner serve with 1 spoonful of red cabbage pickles.
Dessert:
Couscous cake with strawberry topping
1 cup couscous
2 cups apple juice
pinch of salt
Cook couscous in apple juice and when cooled press into pan or mold.  
Topping
1 cup apple juice
1 cup water
2 tbsp agar agar
2 cup strawberries 
Let agar agar dissolve in water and apple juice before cooking  for about 15 minutes.  Cook apple juice, water and agar agar.  When it comes to a boil, lower the flame for 10 minutes.  Turn off and add strawberries.  Pour over cooled couscous.
*Garnish with almonds if desired
**For a sweeter taste add rice syrup or maple syrup .