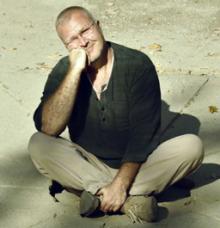 "I am an observer searching for completeness. Ever since I was little, I have perceived two levels of reality – the one I was told and the one I felt regarding it, and I always trusted my own feeling more. As if I always knew that there was a condition that is more complete, the sound which is fuller, the taste that is more substantial ... Since childhood, this longing was strong in me and I have never given up my feeling. " 
Would-be actor, born in Sombor, Atila Schroeder is physical therapist, Pathwork helper, painter and an excellent cook. The common point to all of these, seemingly different fields, is the creativ-ity used as an approach to everything he does. Curious by nature, since he was little he explored the world around him, developing different abilities and collecting, as he calls it, the `"invisible capital", which keeps lurking the opportunities to come to light.
In primary school he was attracted to medicine but having the average grades he was obliged to enroll for what comes closest - veterinary. After graduating from veterinary high school, he took the entering exam for the studies in acting, with professor Petar Banićević and was the first be-low the line, for which he is grateful now. A period of insecurity and uncertainty followed, until the moment a book, that will determine the course of his life, came into his hands. It was the "Perfect Questions, Perfect Answers". Fascinated by the discovery that there are people who talk about what they live and live what they talk about, he packed up and moved to Bhakti yoga ash-ram in Belgrade, where he has spent the following six years. During this time he expanded his horizons, spent six months in India, studied chanting, meditation and yoga, but he also discovered one of his gifts – the talent for cooking. "During two years in the temple I was helping in the kitchen and washing dishes on Sundays, I "recorded" everything, I was watching how the food was getting prepared and one evening I was told that from the following day I would be the head cook (for hundred people). In fact, that "throwing in at the deep end" was the way for me to get awaken. Cooking is a pure pleasure for me, at the same time - simplicity and total freedom. " 
Being there for others

The stay in the temple partly responded to Atila's quest, but "there was something still missing. Believe it or not, what was lacking the most in my life was myself. When I say 'myself', I think of my earthly, physical self. Can I find fulfillment without having to give up any part of myself? Can I be both soul and body at the same time?" Shortly after leaving the life in temple he focusses onto the study of the human body and gets enrolled into the Medical school in Belgrade as an external, finishing his studies in a year. "I'm a kinesthetic person. I've always had a strong con-nection to the body: at first with my own, in a sense of feeling and then also with others', through the work. I've always trusted it." This was followed by a year and a half of hard work as the sen-ior therapist in Bezenska spa and six months in Cyprus." The fact that I was meeting people who felt discomfort and pain and doing my best to help them and to support them provided me a sense of greater fulfillment. I was closer to myself. "
Atila doesn't strictly opt for one type of massage. Combining different approaches - elements of shiatsu massage, chiropractic, Core Energetics and energy massage - he actually applies a mas-sage that a person needs at a certain moment, which is related to presenting complaint of the client. The aim of this approach is to work with the body on a deeper level, which doesn't bring only the immediate relief but deals with solving problems in the long run.
Painting as a need
At the age of 33 he travels to India for the second time, where coincidentally, but owing to his creativity, he spends the next six months as artistic director of a gallery and there he also begins to paint intensively. At first it was a necessity – the damaged paintings that were coming into the gallery needed retouch - and then it became a way of expressing his essence. "Painting brought the sense of completeness to me, a sense of freedom and security, the way to be with my inner self. Most of the stages of my inner journey were given shape and color in my canvases. Painting got manifested as a powerful and vivid way of expressing my own life force, always in motion. "
After returning home, he continued to work simultaneously as massage therapist and artist. Alt-hough he was creating paintings for himself, the canvases quickly began to find their customers which enabled him to take another trip to India, three years later, when he had his big solo exhi-bition, which was opened by L. Subramaniam PhD, famous traditional Indian music violinist. Painting was not only the way to communicate with his own self, but with other people, too.
Pathwork - a bridge between the spiritual and the earthly aspect
"When I discovered Pathwork, I was so fascinated that for four years, I was getting up at 5 am  without the alarm-clock and translating lessons from English; pathwork  was the first thing that showed me that I can get the answers.  Everything depends on us and our feeling. As much as you work, so much you'll prosper. The answers are here, the only question is whether we will learn to read this new alphabet, that language of the unconscious. "
Pathwork
- "The work on the path" – is a method of education, a spiritual path that is based  on certain experiences through the individual and group work.  In the beginning Atila had telephone sessions with a therapist from United States, because at that time, no one was doing Pathwork here in Serbia, and just when he was getting ready to go to US to attend Pathwork Transformation program, he learned that two helpers came to Bulgaria. He got in contact with them and helped bring them over to Serbia with a few others who were also willing to do this kind of work on themselves. This two helpers trained the first generation of Pathwork Helpers here in Serbia, including Atila, who now leads his groups and works with people on individual sessions in Belgrade.
"It's definitely a task for all of us not to remain prisoners of our early experiences - wounds - be-cause they do not belong to the present but to the past. At one point we have to let go and begin to choose consciously whether we will continue to live in fear, according to old patterns, or we will choose to find a new way. There is an exact moment, if you pay attention… the moment of decision. "
The desire to help and support others in their process of growth and transformation associated him to Katarina Subotich, practitioner of Brennan healing method. Crossing their knowledge and experience has resulted in very successful workshops, which have been held for several years, each time in the period from March to June, in Belgrade. 
When asked what he aspires to in life, Atila answers:
"I strive to be a fulfilled and content person, through everything I do, perceive,  give and receive. I want to be here, and help more people become content. Life is essentially so supportive. Every-thing is there for us in the form  we need it, at a time we need it. One just needs to learn how to continuously search for it.
Atila's contact:
* All information about Pathwork can be found at:
** All information about the workshops can be found at: